The Palace of Angels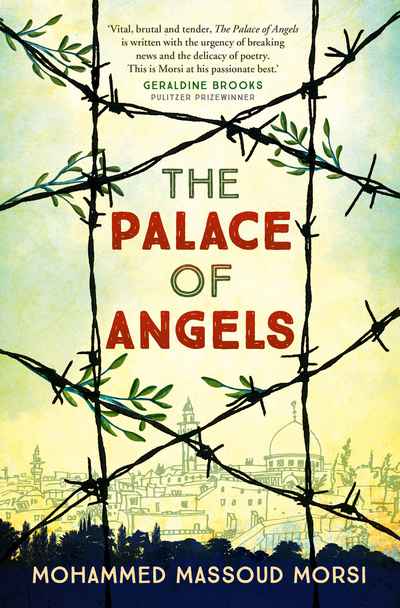 Paperback | Sep 2019 | Wild Dingo Press | 9781925893045 | 360pp | 234x154mm | GEN | AUD$32.95, NZD$39.99

*Shortlisted for the 2020 NSW Premier's Literary Awards Christina Stead Prize for Fiction*
*Longlisted for the Voss Literary Prize 2020*
'Vital, brutal and tender, The Palace of the Angels is written with the urgency of breaking news and the delicacy of poetry. This is Morsi at his passionate best.' — Geraldine Brooks, acclaimed Australian author and Pulitzer Prizewinner
Years ago, three young men, fired with idealism for Palestine's second Intifada and fuelled by hashish, ventured on a clandestine transaction that left just one of them standing. Guns from Israel — bound for Gaza — in exchange for Egyptian hashish.
Many years later, the fight for freedom from Israel's brutal occupation flared into another Israeli onslaught — another 'war'. Amidst the bombardment of Gaza in 2014 — dreams and miracles were shattered for Farida and Fathi, caught in the clash of religious ideologies and the struggle to wrest or retain power.
At the same time angels brought two hearts together and when these lovers met, as in the Arabic phrase, their eyes saw no flaw. In their first pre-dawn encounter at a checkpoint queue, Adnan and Linah, on opposite sides of authority, had their minds convulsed and their eyes bloodied as a delirious young man was gunned down in the yellow-lit darkness of the night. She was an Israeli soldier on guard, he was a Palestinian commuter. While love blossomed, his friend Ali was served the cruellest of fates to embark down the long dark road of revenge.
What is Past is Dead, Twenty-two Years to Life and The Palace of Angels are stories of fighting for freedom by fighting with our defined selves. Behind Palestine's struggle for self-determination are beautiful faces, not normally revealed in war. We are made to question how we find out who we really are and what we wish to become. They are the stories of the seeds of peace and co-existence, yearning to come to life on both sides of the fence, to break through the overburden of noxious politics.
'The Palace of Angels was hurting, shaking, made me dizzy and uncomfortable, gave me hope and filled me with despair, all at once.' — Kobi Tuch, Israeli educator
'With all the sympathy one might feel, it is impossible for an outsider to imagine what it is like to be a Palestinian living in the West Bank or Gaza today. Morsi affords one a revealing glimpse.' — Daniel Gavron, author, former editor, Israel Radio and The Jerusalem Post
'Twenty-two Years to Life is a moving and heartbreaking tale based on a true story. It brings new meaning both to steadfastness and the human suffering within the mega prison of the Gaza Strip. The level of the occupier's cruelty is matched by the fragile humanity of the occupied –– in a way that can only be appreciated with the personal narrative so beautifully spun. The human complexity turns and twists and is then exposed in this powerful tale of the clash between love and hate, revenge and compassion, within an impossible and abnormal reality of occupation, colonisation and ethnic cleansing. The Palace of Angels is a gripping tale that challenges our preconceived ideas and identities.' — Ilan Pappe, Israeli historian and author, Professor of History, University of Exeter
'It does not matter which part of the world we belong to if we consider ourselves a supporter of peace and equality, but it matters that we do not close our eyes to the fatal truth of the regime of Israel, Syria, Iran, Myanmar, Iraq, North Korea, Afghanistan or some of the African countries. It matters to listen to the independent voices are heard from these countries. And this novel is one of those voices. This novel is one of those voices that provokes our conscience.' — Shokoofeh Azar, shortlisted author for the 2018 Stella and Queensland Literary Awards
'Morsi, writing with tremendous empathy, has distilled a political conflict into a very human, visceral story. The dichotomy between love and oppression echoes through this powerful narrative, taking the reader on a shifting journey between the delicate and the devastating.' — WritingWA
'What is Past is Dead is about desperate actions we sometimes take to counter desperate events. The best thing about this novella: it is an intimate portrait of one man's life. Had Morsi painted this work on a bigger canvas, it would not have worked nearly so well as what he has done instead, which is to present us with a very fine cameo.' — T.D. Whittle