Totes Ridictionary 2: The Super, Revised, on Fleek Edition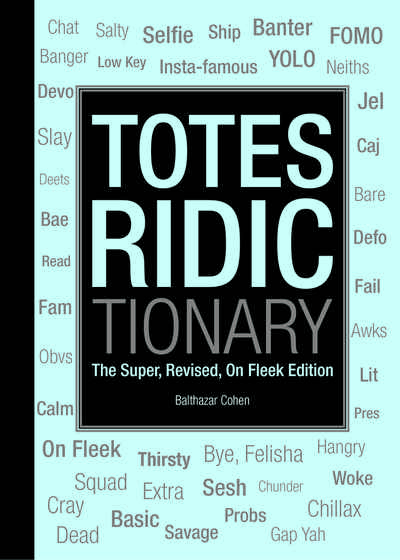 Updated to include all the latest internet slang, this hilarious new edition of the Totes Ridictionary will help readers keep their tweets razor-sharp and on fleek. #Trending
Seeking smexy new words with which to woo your bae, amuse your squad, and generally #BreakTheInternet . . . all in 140 characters or less? Then, worry not, ridicheads!
Inspired by a slew of tasty new abbreviations — currently washing tsunami-like across emails, text, Twitter, Facebook, and social media of every description — comes the super, on fleek second edition of Balthazar Cohen's Totes Ridictionary.
Following the same format that made Cohen's original so cray-cray presh, Totes Ridictionary 2 is packed with even more hilarious illustrations, internet-addicted pets, and smart-phone-savvy pop art than its predecessor — as well as the imagined Twitter conversations of history and literature's most argumentative couples. It also features Cohen's classic glossary of terms, but beefed up with added etymological goodness (much like Stephen Fry before he gave up carbs) and all the hottest new lingo online, to help you sort your FOMO from your YOLO, your bae from just any old ratchet, how to be an unreadable reader — and just when you should be bidding Felisha, 'bye'.
Totes Ridictionary 2 takes a second, totally ridiculous look at what happens when language and technology collide in an ever-changing world, whilst helping you keep your Twitter game stronger than ever.