Buddhist Ritual Art of Tibet: A Handbook on Ceremonial Objects and Ritual Furnishings in the Tibetan Temple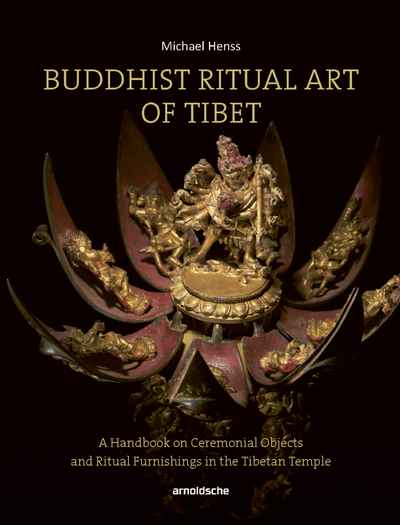 Hardback | Nov 2020 | Arnoldsche | 9783897905672 | 456pp | 300x230mm | RFB | AUD$150.00, NZD$180.00

A must for all those with a profound interest in Buddhist art and religion
Tibetan Buddhist art is not only rich in figural icons but also extremely diverse in its symbols and ritual objects. This first systematic review by the Swiss author Michael Henss is an abundantly illustrated reference book on Tibetan ritual art.
Over eighteen chapters, several hundred different implements are documented in detail, in many cases for the first time and often in their various styles and iconographic forms: altar utensils and amulets, masks and mirrors, magic daggers and mandalas, torma sculptures and prayer objects, vajras and votive tablets, sacrificial vessels and oracle crowns, stupas and spirit traps, ritual vases, textiles, furniture and symbolic emblems. Aside from the priceless ritual value of the individual objects, the high level of craftsmanship with which they were made is captivating: splendidly woven, embroidered or printed silk fabrics, the finest carvings and all kinds of metalwork — wrought, alloyed, gilded, decorated, all accompanied by many historical and modern text sources, as well as rare oral accounts from high-ranking Tibetan masters.
Whether read at a glance or chapter by chapter, this book will broaden your understanding of the various Buddhist rituals, the sacred meanings of individual objects and ceremonial functions, offering a stunning overview of Tibet's world of imagination which for centuries helped its people meet the challenges of terrestrial life in rich and varied imagery and which is reflected in ritual practices even today. This long-awaited book is a must have for all those with a profound interest in Buddhist art and religion.