Fauna: Australia's Most Curious Creatures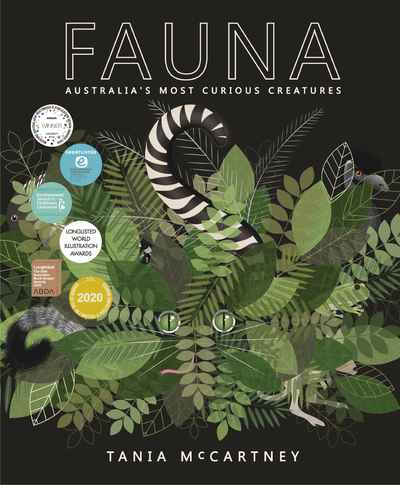 Paperback | Feb 2021 | National Library of Australia | 9780642279767 | 56pp | 280x235mm | GEN | AUD$17.99, NZD$19.99
Hardback | Nov 2019 | National Library of Australia | 56pp | 280x235mm | GEN

*Winner, 2020 Museums Australasia Multimedia and Publication Design Awards (MAPDA)*
*Longlisted, 2020 World Illustration Awards*
*Longlisted, 2020 Australian Book Design Awards*
*Shortlisted, 2020 Wilderness Society Environment Award for Children's Literature*
*Shortlisted, 2020 Educational Publishing Awards*
Age range 5+
Did you know that platypus have retractable webbing on their hind feet to enable an easy transition from swimming to digging? That kangaroos can't sweat and that the cassowary has no tongue?
In Fauna - Australia's Most Curious Creatures, readers are constantly introduced to facts that delight, amaze and induce sheer wonder at the clever design and adaptability of our much-loved native fauna.
The information on each individual species is presented in small 'bites' to hold the interest of younger readers, while the information taken in total gives a comprehensive summary of each species, including breeding and feeding habits, physical characteristics, habitat and other unique and quirky features.
Fauna also has a strong conservation message with an 'extinction roll call' and a rating for the vulnerability of endangered species.
The stylised illustrations in Fauna are lively, colourful and informative, highlighting facts that lend themselves more to pictures than words e.g. the actual size of crocodile teeth, or the mechanics of the echidna's beak. There is also humour in the illustrations – is that kangaroo with dark glasses actually from a different kind of mob?
Readers young and old will be delighted and informed by Fauna.
Teachers' notes available here