Australian Beetles
Australian Beetles Volume 2: Archostemata, Myxophaga, Adephaga, Polyphaga (part)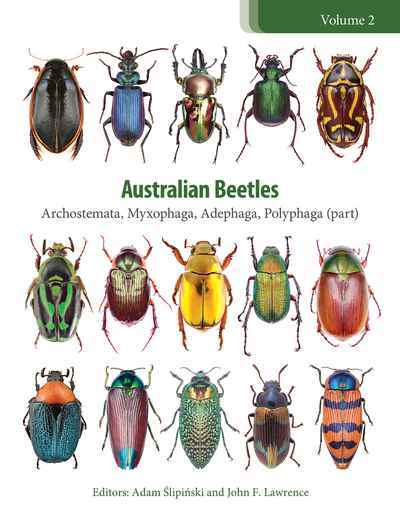 Hardback | Nov 2019 | CSIRO Publishing | 9780643097308 | 792pp | 275x210mm | GEN | AUD$250.00, NZD$300.00

This three-volume series represents a comprehensive treatment of the beetles of Australia, a relatively under-studied fauna that includes many unusual and unique lineages found nowhere else on Earth.
Volume 2 contains 36 chapters, providing critical information and identification keys to the genera of the Australian beetle families included in suborders Archostemata, Myxophaga, Adephaga and several groups of Polyphaga (Scirtoidea, Hydrophiloidea, Scarabaeoidea, Buprestoidea and Tenebrionidae). Each chapter is richly illustrated in black and white drawings and photographs. The book also includes colour habitus figures for about 1000 Australian beetle genera and subgenera belonging to the families treated in this volume.
This volume is a truly international collaborative effort, as the chapters have been written by 23 contributors from Australia, China, Czech Republic, Germany, Italy, Poland and USA.