Net Privacy: How we can be free in an age of surveillance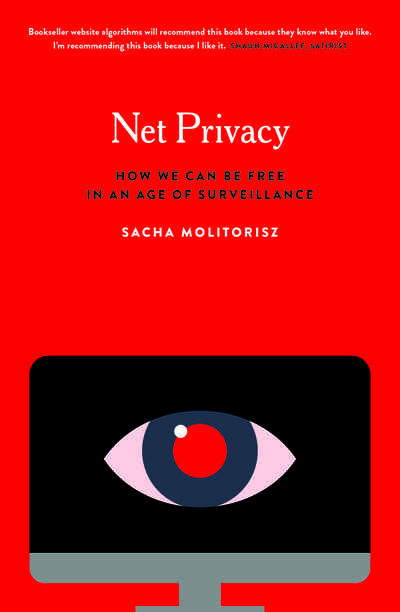 Paperback | Apr 2020 | NewSouth | 9781742236063 | 368pp | 234x153mm | GEN | AUD$34.99, NZD$39.99

Billion-dollar fines for Facebook. Cambridge Analytica. Edward Snowden. Apps on our smartphones tracking our every move. Privacy may be a defining issue of our age, but it is also one of the least understood. Our digital world confuses what we know about privacy — what is public, what is private. Do old ethical and legal norms apply to new, digital media? How did the conditions of privacy become so uncertain that we are unsure about our own right to privacy? What can protect us from allowing corporations, governments, hackers and insidious websites to know more about us than we want them to?
Rigorous and engaging, this book examines the minutiae of our digital lives while drawing on a philosophy of ethical and legal frameworks based on the thinking of philosopher Immanuel Kant. With a firm eye on the cutting edge of digital developments, Sacha Molitorisz outlines a robust model of individual consent.
Of urgent importance, this book spells out conceptual and practical steps to ensure our shared future is not dystopian. It shows not only that informed privacy is fundamental to us as individuals, but that in the digital world we need an enforceable regulatory framework to secure our relationships with others and to safeguard our democracies.
'If you undress in front of an open window, it's your own fault. Sacha Molitorisz makes you realise that you're undressing in a glasshouse and your clothes are made of cellophane.' — Shaun Micallef, satirist and ex-lawyer
'...[A] comprehensive analysis that offers a much-needed guide to, and thereby hope for, preserving and enhancing privacy, and with it, human dignity and democracy that are otherwise profoundly threatened on numerous fronts...' — Charles Ess, University of Oslo
'Net Privacy is a must-read for regulators, scholars and anyone else grappling with issues around online privacy. It concisely explains how technological innovation has fundamentally reshaped privacy and provides a compelling alternative vision for privacy law and regulation.' — James Meese, RMIT University
'Net Privacy delivers both a call to action, and an action plan, on one of the most important and complex issues of our time.' — Kayleen Manwaring, UNSW
'Written in a highly readable style, and drawing on a rich set of allusions to popular culture and cross-country comparisons, Molitorisz draws on Kantian ethics as a universal measuring stick, providing a prescription for privacy that would shore up our individual and relational autonomy. A much-needed account in troubled digital times.' — Sara Bannerman, McMaster University
'Molitorisz brings an engaging philosophical discussion to the networked complexities of internet privacy threats and abuses in a way that is both attractive and accessible for his readers.' — Tim Dwyer, University of Sydney