The Enlightenment of the Greengage Tree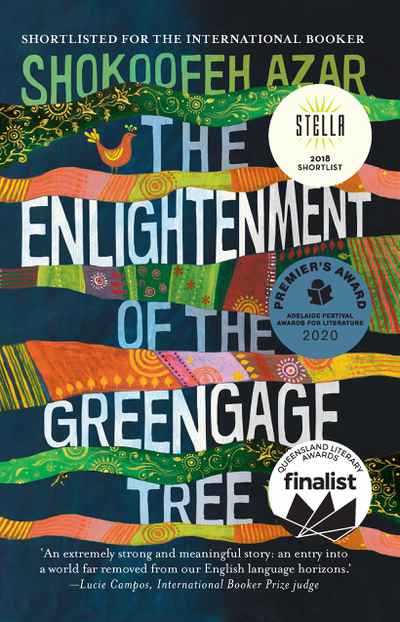 Paperback | Aug 2020 | Wild Dingo Press | 9781925893939 | 288pp | 208x135mm | GEN | AUD$24.95, NZD$29.99
Paperback | Aug 2017 | Wild Dingo Press | 280pp | 234x153mm | GEN

*Shortlisted for the International 2020 Booker Prize*
*Shortlisted for the Stella Prize 2018*

*Shortlisted for The University of Queensland Fiction Book Award 2018*
*Shortlisted for the 2020 Adelaide Festival Awards for Literature*
*Longlisted for the US National Book Award 2020*
*Longlisted for the PEN America Literary Awards 2021: PEN Translation Prize*

Shokoofeh is the only Austalian author to be shortlisted for the International Booker Prize. The Enlightenment of the Greengage Tree is an extraordinarily powerful and evocative literary novel that re-imagines the 1979 Islamic revolution and its aftermath.
This richly-imagined novel is narrated by the ghost of Bahar, a thirteen-year-old girl, whose family is compelled to flee their home in Tehran for a new life in a small village. They hope to preserve their intellectual freedom and their lives, but soon find themselves caught up in the post-revolutionary chaos that sweeps across their ancient land and its people.
Written in the lyrical magical realism style of classical Persian story-telling, The Enlightenment of the Greengage Tree speaks of the power of imagination when confronted with cruelty, and of our human need to make sense of trauma through the ritual of storytelling itself. Portentous dragonflies, forest jinns and mermaids suffuse the narrative that stand in stark contrast to the material circumstances that alter the character's lives. Through her unforgettable characters, Azar weaves a timely and timeless story that juxtaposes the beauty of an ancient, vibrant culture with the brutality of an oppressive political regime.
Included in The Guardian's 'Elena Ferrante names her 40 favourite books by female authors' article.
'An extremely strong and meaningful story: an entry into a world far removed from our English language horizons.' — Lucie Campos, International Booker Prize Judge

'The Enlightenment of the Greengage Tree is a fantastical tale set in post-revolutionary Iran that concentrates on a family's tragedies, loves, and losses. It's a work of magical realism with plenty to unpack...Nods to poetry and literature make the parables of The Enlightenment of the Greengage Tree engaging, tantalizing, and memorable.' — Foreword Reviews
'From a people smuggler's boat to the shortlist for the Stella Prize' — Sydney Morning Herald
'If ever there was a book that needs to be read more than once, this is it.' — ArtsHub

'This novel is an exciting development in Australian publishing.' — ANZ LitLovers LitBlog
'Living in the 21st Century is not for the faint hearted, so it's no surprise that writers of literary fiction are looking clear-eyed at schisms of times past and the capacity of humans for brutality. Stylistically similar to Eka Kurniawan's acclaimed Beauty is a Wound, this novel is set in the aftermath of Iran's Islamic Revolution of 1979. Many scenes, most memorably Azar's handling of Beeta's fate, blend heavy darkness with allegorical flights of imagination, marking the author as an assured fabulist. She brings to colourful life an extended family replete with beauty, humour, and tragedy" — WritingWA
'Incredible...I have never read such a voice before. It is playful, poetic, and deeply melancholy at the same time. Azar writes about the blunt force of Iranian history with the lightness of a feather's touch. Transcedental, brilliant and beautiful.' — Alice Pung
'This is Azar's first novel to be translated into English and will appeal to readers of historical fiction and magic realism. It recalls The Lovely Bones, which utilises the perspective of an omniscient child narrator to great effect, and Life of Pi, which adroitly obscures fact with fiction.' — Sonia Nair, Books + Publishing
'This is magic realism flipped. The magical world is shot through with realism, rather than vice versa...The plot is intricate. It's not until the fifth chapter that we have a hint of the existential catastrophe the narrator is enduring...The writing is ravishing: shimmeringly poetic. Even as the story progresses and the mood darkens, the narrator's meticulous descriptions of the flowers, birds, animals and landscapes around her hold beauty as close as a talisman.' ––Miriam Cosic, writer and critic, The Weekend Australian Book Reviews
'This book is alive...it speaks to us about the human condition and about how we live our lives in the most profound, beautiful, eloquent, complex, messy at times, chaotic, traumatic, extraordinary fashion — and in that sense, it is a real book of life. A true book that affirms life through some of the most extraordinary suffering that you can experience.' — Professor Baden Offord, Curtin Centre for Human Rights

'I was swept away by [this book]. In fact it reminded me of what a book can be — how it can devastate you and console you simultaneously — and I loved the thread of philosophical questioning throughout. I couldn't start another book afterwards, for days. I had to think, to let it all sink in.' — Dani Powell, Artistic Director, NT Writers' Festival

'This is a fiercely clever work of fiction […] Azar's prose is exuberant.' — New Statesman
'With The Enlightenment of the Greengage Tree, Azar examines life in post-revolution Iran in this stunning novel filled with magical realism and Persian folklore.' — Kendra Winchester, BookRiot
'Azar's narrative exudes fairy tale charm driven by moments of deep connection that ultimately celebrate human and humane bonds unbroken even in death.' — Terry Hong, Booklist (Starred Review)
'Engaging, tantalizing, and memorable.' — Tanisha Rule, Foreword Reviews