Trick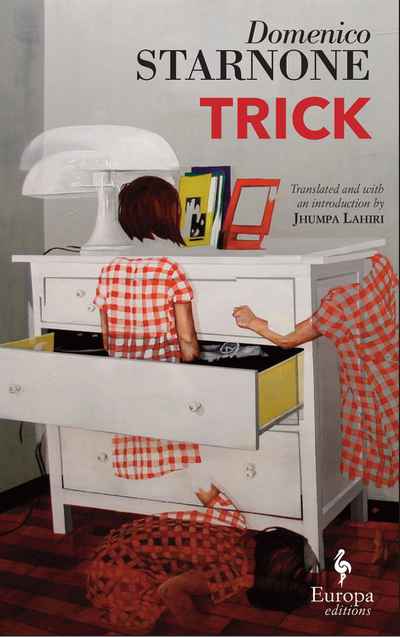 Trick is a stylish drama about ambition, family, and old-age that goes beyond the ordinary and predictable.
Imagine a duel between an elderly man and a mere boy. The same blood runs through their veins. One, Daniele Mallarico, is a successful illustrator whose reputation is slowly fading. The other, Mario, is his four-year-old grandson. Daniele has been living in a cold northern city for years, in virtual solitude, focusing obsessively on his work, when his daughter asks if he would come to Naples for a few days and babysit Mario while she and her husband attend a conference. Shut inside his childhood home — an apartment in the center of Naples that is filled with the ghosts of Mallarico's past — grandfather and grandson match wits as Daniele heads toward a reckoning with his own ambitions and life choices.

Outside the apartment, pulses Naples, a wily, violent, and passionate city whose influence can never be shaken.

'Lahiri's translation preserves the poignancy and humor of the first-person narration, which balances compassion and repressed irritation.' — Publishers Weekly
'I think Domenico is the finest Italian living writer.' — Jhumpa Lahiri in Entertainment Weekly
'Engrossing' — The Sunday Times
'A stark meditation on art, ambition and failure.' — BBC
'TRICK has all the coherence and intensity of a classic two-hand play... [T]he book seems to unfold right before you—the voice so lucid and urgent...' — Literary Hub
'Deceptively simple, the novel is also witty to the point of hilarity (see Mario's argument with his grandpa about cartoons) and achingly moving.' — Kirkus, starred review
'Recounting the bare facts of the story fails to reveal the wonderful interweaving of rage and tenderness that propels the narrative...A book for grandparents to read as school holidays approach: a warning and a lesson in ultimate forbearance.' — Peter Stupples, Otago Daily Times

'Trick is fantastic — savage and funny and weirdly profound. A little masterpiece.' — Garth Greenwell, author of What Belongs to You