Simply Simon's: The Diner Cookbook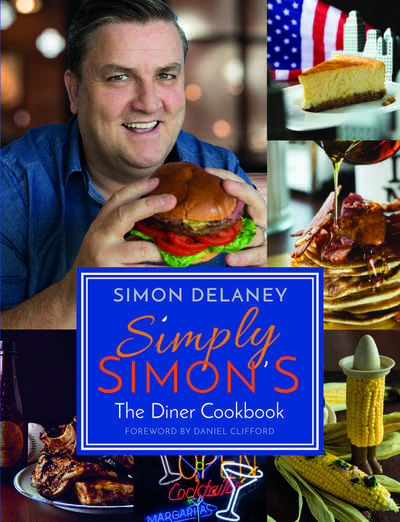 Simon Delaney has been an actor, writer, director, presenter, and producer for almost twenty years. He has an incredible range of work under his belt all the way from Ballykissangel to The Good Wife, Delivery Man, Mrs Brown's Boys D'Movie, and Coronation Street.
But away from the cameras, the favourite part of his food journey has been time spent in America, and in New York in particular, enjoying the classic Great American Diner experience. But it was making the final of Celebrity Masterchef in Ireland that finally led him to write this book and share his love of diner cuisine. In Simply Simon's: The Diner Cookbook, Simon has taken some of the world's favourite diner dishes, and adapted them for the home cook.
Laid out like a diner menu, the book gives you the chance to have a starter, go straight for an entree, or dive in to a delicious dessert, or if the mood takes you, pick something from the breakfast menu. Its what Simon loves about diners — day or night, summer or winter, you can have your favourite comfort food dish, whenever you want it. And he's set out options both for the classic recipes and healthy-eating versions that are just as delicious.
Simply Simon's is all about choice and delicious, comforting food. Whatever you want, whenever you want it. Enjoy!