Transformations in Stories and Arguments: Integrated Ela Lessons for Gifted and Advanced Learners in Grades 2-3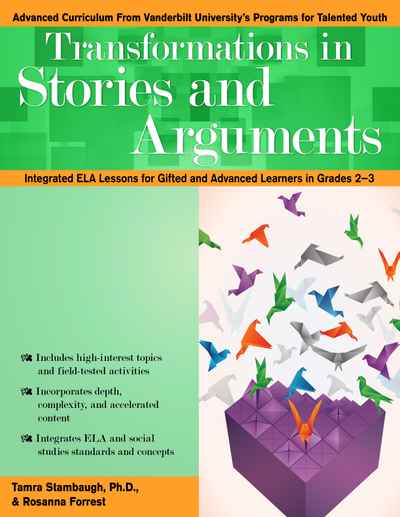 Transformation in Stories and Arguments explores essential questions, such as 'How does the development of a character build the reader's understanding? How do the actions of others change the world? How do words and images impact our thinking?'.
This unit, developed by Vanderbilt University's Programs for Talented Youth, is aligned to the Common Core State Standards and features accelerated content, creative products, differentiated tasks, engaging activities, and the use of in-depth analysis models to develop sophisticated skills in the language arts. Through the lens of transformation, students will examine narrative and persuasive elements essential to the analysis of short stories, advertisements, visual art, historical events, and their own writing. Students will discover transformations in themselves and their written work as they craft and revise narrative and persuasive pieces, realizing their own voice in the process.