The Bible in Australia: A cultural history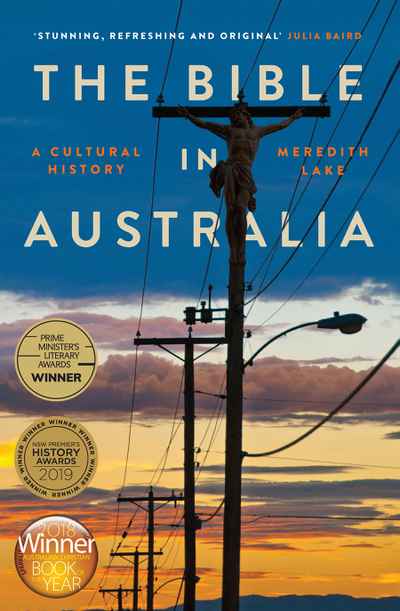 WINNER of the Nonfiction Award 2020 Adelaide Festival Awards for Literature
WINNER of the 2019 NSW Premier's History Award: Australian History Prize

WINNER of the 2019 Prime Minister's Australian History Prize

WINNER of the 2019 CHASS Australia Book Prize

Australian Christian Book of the Year in 2018
'STUNNING, REFRESHING AND ORIGINAL.' — JULIA BAIRD
Koby Abberton emerges like a shark on to the sand at Maroubra Beach. Tattooed from shoulder to shoulder, his body bares letters like teeth: 'My brothers keeper'.
In this surprising and revelatory history of the Bible in Australia, Meredith Lake gets under the skin of a text that's been read, wrestled with, preached and tattooed, and believed to be everything from a resented imposition to the very Word of God.
The Bible in Australia explores how in the hands of Bible-bashers, immigrants, suffragists, evangelists, unionists, writers, artists and Indigenous Australians, the Bible has played a contested but defining role in this country.
Read the review in Sight Magazine
'Vivid story-telling and impossible to put down. Meredith Lake brings the Bible's chameleon-like presence in Australia's past alive. At last, this long-neglected yet profoundly important aspect of Australian history has found its true historian. A remarkable achievement.' — Mark McKenna
'From the opening words about Bra Boy tattoos, this book had me gripped. It breathes colour, poetry and life into our understanding of the Bible in Australia. A vital, much-needed addition to our understanding of faith in our country.' — Julia Baird

'The Bible in Australia is an unpretentious title for a remarkable book, and yet it is accurate enough. The Bible has been an ever-present aspect of life in Australia for 230 years, but no one has ever thought through its profound importance before.' — Alan Atkinson, Australian Book Review