The Clarke Gang: Outlawed, Outcast and Forgotten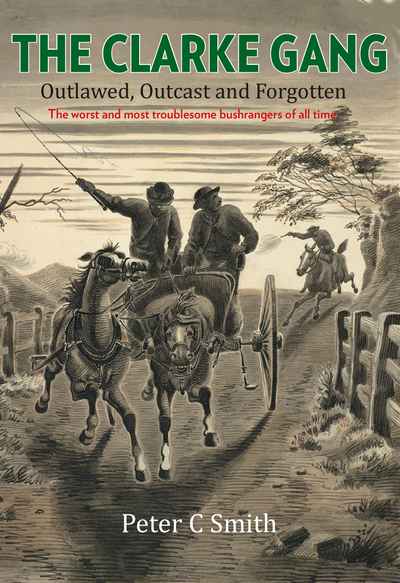 Who were the Clarke Gang? Ten years or more before Ned Kelly became famous the Clarke brothers and their associates were terrorising an area stretching from present day Canberra to the coast from 1865 to 1867. They intimidated, assaulted, robbed and murdered police and civilians alike. They had no hesitation in killing any member of the gang suspected of being untrustworthy. They were able to escape what was then the rather short arm of the law by the vast network of relations and "harbourers". The author details their exploits and the terror they aroused in the population. His asks why The Clarke Gang are hardly known whereas Ned Kelly is regarded as an icon. His conclusion is interesting.
'It's taken more than 50 years, but Peter C. Smith's obsession with the Clarke gang has finally come paid off with a fitting historical tome.' - Canberra Times
Read the full review here.
Also reviewed in Town & Country.
Peter Smith has given an interview about his book and the re-enactment of the capture of the Clarke Gang to ABC Radio Canberra. Here The Monthly talks about Smith's re-enactment (featuring Clarke descendants of the famous bushrangers) and its place in Australian history and culture.