Whiskey When We're Dry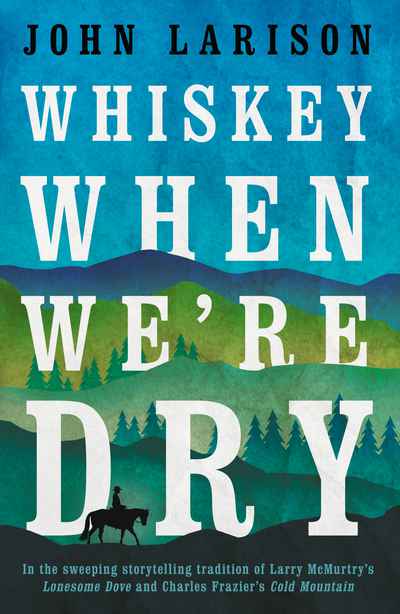 Paperback | Aug 2019 | No Exit Press | 9780857303189 | 432pp | 198x129mm | GEN | AUD$22.99, NZD$27.99

In the spring of 1885, seventeen-year-old Jessilyn Harney finds herself orphaned and alone on her family's homestead. Desperate to fend off starvation and predatory neighbours, she cuts her hair, binds her chest, saddles her beloved mare, and sets off across the mountains to find her gun-slinging fugitive brother Noah and bring him home.
A talented sharpshooter herself, Jess's quest lands her in the employ of the territory's violent, capricious governor, whose militia is also hunting Noah — dead or alive. Wrestling with her brother's outlaw identity, and haunted by questions of her own, Jess must outmanoeuvre those who underestimate her, ultimately rising to become a hero in her own right.
Told in Jess's wholly original and unforgettable voice, the story brims with page-turning Western action, but its approach is modern and nuanced, touching on powerful issues from gender and sexuality to family and identity.
'Larison has developed a pitch-perfect voice for his intrepid heroine' — Publisher's Weekly
'Whiskey When We're Dry is the story of a surprising heroine...narrated in a voice cobbled out of slang and sagebrush, Larison's novel is a vivid and fast-paced frontier saga' — Kate Manning, author of My Notorious Life
'A thunderclap of originality, here is a fresh voice and fresh take on one of the oldest stories we tell about ourselves as Americans and Westerners. It's riveting in all the right ways' — Timothy Egan, New York Times bestselling author of The Worst Hard Time
'Jess's adventures, recounted in her richly idiosyncratic voice, resemble those of the traditional western hero, but Larison uses them to examine very modern ideas about identity, sexuality and the use of violence.' — The Sunday Times
'The punch and intensity of the writing and the voice of Jessie are rather remarkable.' — Elizabeth Buchan, Daily Mail
'True Grit meets Blood Meridian meets Mulan'. —Stuart Neville
'A powerful, impressive novel with a visceral sense of time and place.' — Antonia Senior, The Times
'The punch and intensity of the writing and the voice of Jess are rather remarkable...So, too, is the depiction of her inner life, which lifts the novel high above the run of the mill' — Elizabeth Buchan, Daily Mail
'This book is clearly a child of Truly Grit...but Whiskey When We're Dry plays its straight and Larison makes the reader believe in the unlikely premise through the remarkable still with which Jess' narrative voice is realised.' — Jake Kerridge, Telegraph
'Larison imbues the romance and wide-open spaces of the classic western with modern gender and racial awareness, giving space to those left out of the classic Old West mythos, but the main draw is Jesse's narrative voice, all folksy eloquence peppered with grit and determination' — Alistair Mabbott, Herald Scotland
'Whiskey When We're Dry is a breath-taking novel. At times poetic and thought provoking. Wash away the dry dusty trail with this whiskey soaked epic.' — Paul Burke, NB Magazine