Waiting for Gonski: How Australia failed its schools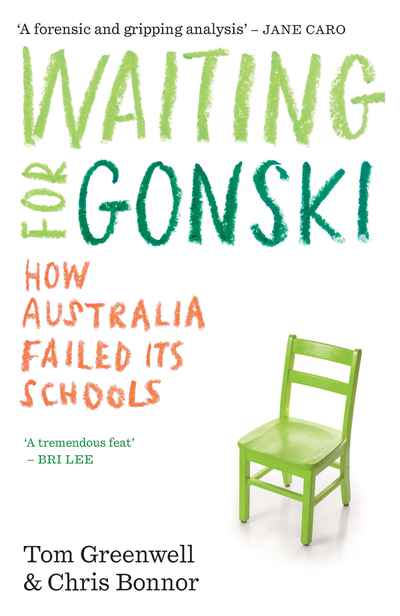 Paperback | Mar 2022 | UNSW Press | 9781742237268 | 384pp | 234x153mm | GEN | AUD$39.99, NZD$44.99


**Longlisted, Australian Political Book of the Year Award 2022**
Why is education in Australia failing?
Where did we go wrong, and how do we fix it?
The Gonski Review seemed like a breakthrough. Commissioned by Prime Minister Julia Gillard and chaired by leading businessman David Gonski, the 2011 review made clear that school education policy wasn't working, and placed a spotlight on the troubling and growing gap between the educational outcomes of disadvantaged children and their more privileged peers.
Gonski proposed a model that provided targeted funding to disadvantaged students based on need, a solution that promised to close the gaps and improve overall achievement.
And yet, over a decade later, the problems have only worsened. Educational outcomes for Australian schoolchildren continue to decline, and there is a growing correlation between social disadvantage and educational under-achievement. So why hasn't Gonski worked, and what should we do now?
Written by teachers Tom Greenwell and Chris Bonnor, Waiting for Gonski examines how Australia has failed its schools and offers inspired solutions to help change education for the better.
'A forensic and gripping analysis of the power plays and vested interests that flipped Gonski from a needs-based, sector-blind funding scheme to its exact opposite. Greenwell and Bonnor even dare to float some ideas about how we might unravel the unholy mess that education funding has become.' — Jane Caro, novelist, writer and social commentator
'School funding arguments cut straight to core questions of national identity and this book is a tremendous feat of history and economics which privileges understanding over judgment. Greenwell and Bonnor present a definitive and clear account of how we got into this mess, and they offer bold ideas for how we might get out of it.' — Bri Lee, writer, journalist, activist and author of Who Gets to be Smart and Eggshell Skull
'Waiting for Gonski forensically maps the sweetheart deals, spin and threats that cynical vested interests have wielded over and over to maintain their own privilege, in the process damaging Australia's future and throwing our most vulnerable students under a metaphorical bus. Read it and weep. Then agitate.' — Marion Maddox, Honorary Professor of Politics, Macquarie University and author of Taking God to School: The End of Australia's Egalitarian Education?
'When Gough Whitlam broke the stalemate on "state aid" he hoped that the Schools Commission headed by my old mentor, Professor Peter Karmel, would provide equal opportunity for all students, particularly for "poor Catholic kids". Unfortunately, the powerful and greedy private and Church lobbyists have subverted that hope. They have lobbied all governments to protect the privileged at the expense of millions of children in public schools and some private schools. The virtue of this book is that it places the failure of the Gonski reforms within the larger story of state aid in Australia.' — John Menadue, publisher of Pearls & Irritations, who's had a distinguished career both in the private sector and in the Public Service
'Rigorous research compellingly presented, a sharp account of the highs and lows of the Gonski rollercoaster. This book offers both a cautionary tale and some excellent advice: we can do better for the nation's schoolchildren.' — Helen Proctor, Professor in Education History and Policy, Sydney School of Education and Social Work, University of Sydney
'Sometimes education systems need to choose a new way to address old problems. That remains Australia's challenge. Waiting for Gonski is a must-read for all policymakers, educators, and parents who want to know why we ended up having one of the most unequal school systems today and how we can rebuild it so that all children will have a fair go in education that they deserve.' — Pasi Sahlberg, Professor of Education, Gonski Institute for Education, University of New South Wales and author of Finnish Lessons: What can the world learn from educational change in Finland