Peanuts Boxed Set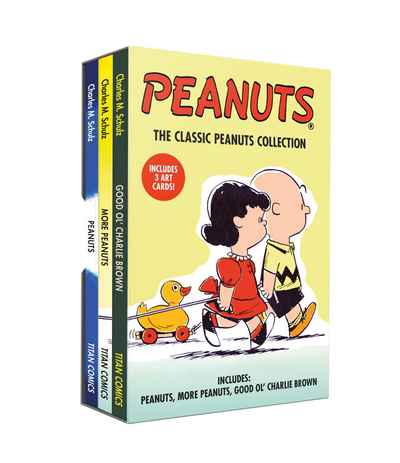 Paperback | Dec 2022 | Titan Comics | 9781787738584 | 384pp | 205x138mm | GEN | AUD$34.99, NZD$39.99


A box-set facsimile collection of three classic Peanuts comic strip books - Peanuts, More Peanuts and Good Ol' Charlie Brown. With each book containing 128 pages, that's over 360 pages of classic Peanuts daily and Sunday newspaper comic strips to enjoy. Including art cards featuring the cover art from the individual books.
This box-set of three of the very first Peanut books features many of your favourite characters, including Charlie Brown, Snoopy, Lucy, Linus, Pig-Pen and Schroeder. Join them as they navigate their way through school, first crushes, the complexities of baseball, and the world of the forever unseen grown-ups and their crazy rules. Plus a rare opportunity to see what Pig-pen looks like clean!
Collecting together the first three facsimile editions from Titan's much lauded and best-selling series with the First, Second and Fourth editions of the classic facsimile edition paperbacks, offering the original books exactly as they were first published in 1952,1954 and 1957. This box-set collects 360 pages of classic comic strips taken from the years 1952 – 1957, which were originally published in 1952, 1954 and 1957 by Holt, Rinehat and Winston of Canada.