Heat
HEAT Series 3 Number 1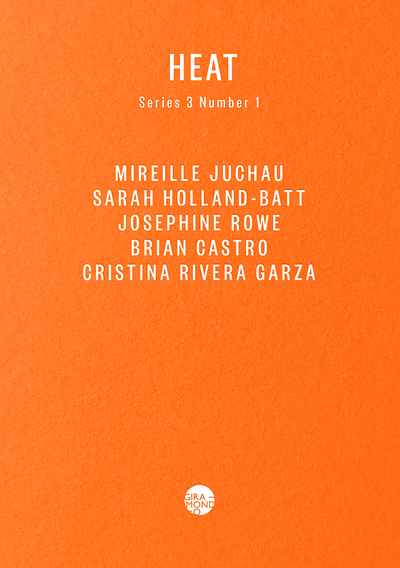 Paperback | Feb 2022 | Giramondo Publishing | 9781922725004 | 112pp | 210x148mm | GEN | AUD$22.95, NZD$27.99


HEAT, Giramondo's celebrated literary journal, relaunches in a third series.
'An edgy and enormously influential literary magazine…' – The Australian
'A really lively magazine like HEAT can create the occasion for new writing as well as being an outlet for it, a wish on the part of writers to write up to its standard. It makes things happen. It creates its own scene.' — David Malouf
First published in 1996, HEAT is a literary journal dedicated to publishing Australian and overseas writers of the highest quality. It returns after a decade-long hiatus with a renewed commitment: to challenge convention and spark international exchange. At the core of HEAT is a desire to bring together writing that is powerful, eccentric and skilful. Rather than being guided by a subject or themes, the journal is drawn to depth of thought, singularity of voice, curiosity and, above all, writing that speaks to the urgency and dynamism inherent in the word 'heat' itself.
HEAT's third series is edited by Alexandra Christie and designed by award-winning designer Jenny Grigg. Christie is supported by a distinguished editorial advisory board, alongside Giramondo's founders, Ivor Indyk and Evelyn Juers, and associate publisher, Nick Tapper.
HEAT will continue to feature new and familiar voices, with the focus thrown sharply on the individual writers featured in each issue. Commencing in February, it will appear in a new, smaller and more intimate format, on a bimonthly schedule, with six issues per year. HEAT 3.1 will include short stories, essays, and poetry from writers including Sarah Holland-Batt, Mireille Juchau, Cristina Rivera Garza and Josephine Rowe.
HEAT's relaunch in print will be supported by the digitisation of the journal's archive, allowing a new generation of readers to access contributions to past issues. Fifteen issues were published in the first series of HEAT from 1996–2000. The second series followed with twenty-four issues published between 2001 and 2011. Among the contributors to the first two series were Murray Bail, John Berger, Roberto Bolaño, Brian Castro, Inga Clendinnen, Gao Xingjian, Helen Garner, Lisa Gorton, Jorie Graham, Gail Jones, Kapka Kassabova, Etgar Keret, Deborah Levy, David Malouf, Herta Müller, Gerald Murnane, Les Murray, Dorothy Porter, Gig Ryan, Charles Simic and Alexis Wright.