Windfall: Unlocking a fossil-free future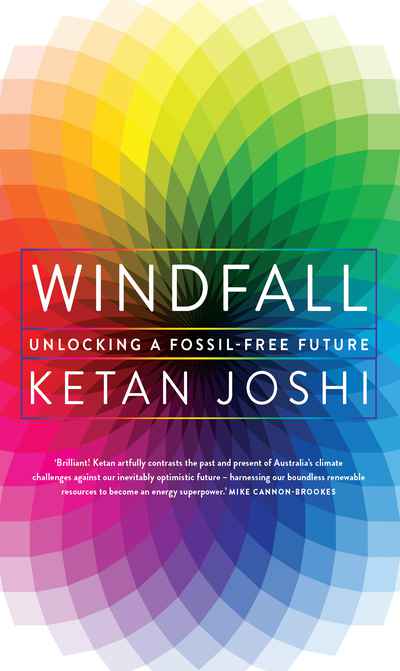 Paperback | Sep 2020 | NewSouth | 9781742236469 | 272pp | 234x153mm | GEN | AUD$29.99, NZD$34.99


We've had a decade of distraction and inaction on climate change, but what made things go so very wrong in Australia? And what can the rest of the world learn from our mistakes – and opportunities?
In Windfall, renewable energy expert Ketan Joshi examines how wind power inspired the creation of a weird, fabricated disease, and why the speed with which emissions could have been reduced — like putting a price on carbon — was hampered by a flurry of policy disasters. He then plots a way forward to a future where communities champion equitable new clean tech projects, where Australia grows past a reliance on toxic fuels, and where the power of people is used to rattle fossil fuel advocates from their complacency.
Renewable energy can become a key player in the effort to upgrade our species from one on a path to self-destruction to a path of sustainability and fairness. With the knowledge of how the last decade was lost, the next decade can work the way it's meant to.
'In Windfall: Unlocking a fossil-free future, renewable energy industry insider Ketan Joshi gives a teeth-gnashing account of Australia's interminable climate debates...Windfall is perfect for the lay reader and non-specialist wanting to know how climate policy went so terribly wrong. It also offers hope that a decarbonised future is within reach.' — Chris Saliba, Books+Publishing

'This is a book from the heart: clear, eloquent, candid and rational. It is at once an intensely personal narrative and a searing indictment of policy failure. Windfall provides abundant reasons to be angry, but also plenty to be hopeful.' — Lesley Hughes
'Joshi is a rare example of someone equally adept with the science, the technology and the politics of climate change...a powerful call to action to build a clean energy future that's cheap, clean and ready when we are.' — Scott Ludlam
'Brilliant! Ketan artfully contrasts the past and present of Australia's climate challenges against our inevitably optimistic future - harnessing our boundless renewable resources to become an energy superpower.' — Mike Cannon-Brookes
Listen to an excerpt from Windfall, read by Ketan Joshi here.